Welcome to Brian Booth Studios, a website devoted to information on opportunities to learn, study and work with the artist Brian Booth Craig.
Brian Booth Craig Studios is located in the Poconos near the Delaware Water Gap Recreation Area and just minutes away from Bushkill Falls and Shawnee Mountain Ski Area. These are just a few of the many other attractions in the area for hiking, sightseeing, skiing during winter and more.
How to get there:
Located 70 miles west of NYC, and 100 miles north of Philadelphia, the best method for getting to the studios is by car or bus. For those arriving from outside the area, we recommend flying into Newark Airport. From there one can rent a vehicle or take a quick shuttle bus to Port Authority. From Port Authority in NYC there is a commuter bus which serves the Poconos, going to Stroudsburg/DWG. For schedule and tickets, click here MartzTrailways.
Where to stay:
There are several accommodations within a few miles of the studios, including Airbnbs, hotels, motels, inns and B&Bs. Below are some recommendations that are near the studios, providing a wide range of services and price ranges. A brief search will yield many more options in the area! Click on each suggestion to see their websites.
Inns and Spas: Stroudsmoor Country Inn, Deerfield Spa, Deer Head Inn
LGBT Resort: Rainbow Mountain Resort
Bed and Breakfasts: Cherry Valley Manor, Cranberry Manor, Santosha on the Ridge
Hotels and Motels: Pocono Quality Inn, Hampton Inn Stroudsburg, Staybridge Suites, Clarion Inn and Suites, Paramount Motel
Brian Booth Craig is represented by Louis K Meisel Gallery in NYC. His personal work is created in his Pennsylvania studios and in Rome. To see examples of his work, click on the link.
Located in Northeast Pennsylvania, this is where most of Brian's personal work is created, where apprenticeships take place, and is one of the venues for his sculpture courses.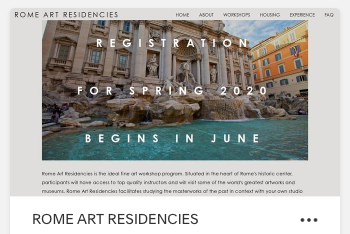 Founded by Brian and organized with colleagues, these courses take place in Rome. Click the link for more information.